She is FINISHED!
(well, almost)
Phew, what a fun project this has been!
After buying our home in Jacksonville last summer, we knew we had some large house projects we wanted to tackle— starting with our kitchen renovation. Really, everything hinged on it. There was tile, there was a few funky walls we wanted to re-work, there was wall paper, there was generally just lots of updating that needed to be done in order to start on literally anything else in the house.
So, we grabbed our hammers (and advil, and wine) and got to work.
The month after we moved in last August (2020), I met with a handful of designers in the area to chat about budget and get a visual on what I wanted. I knew I wanted certain things, but wanted to make sure it all could be done within a certain, honestly pretty low budget.
Our kitchen is not large by ANY means, so that helped with price. I have to say that the huge wonky shaped pantry being tore down completely and made into a cabinet completely changed the feel of the room, along with lowering the serving bar to be one level bar. Also, white. You really can't go wrong with white.
We went with Debbie from Kitchen Art for our kitchen renovation design and total management of project, along with Sid Russeau for our contractor. They were seriously the best, and so sweet.
For countertops, we used Mark at Moyer Marble, and highly recommend them. Our countertops are "Jasmine White" by Daltile. It's a warm white with the faintest grey marbling.
Our cabinetry is Tedd Wood Custom Cabinets in "Dover White". Debbie did such a good job in the interior design of the cabinets as well. Who would've thought there are so many options? We chose soft close for all doors, a lazy suzan in the corner cabinets, deep drawers for pots and pans on one side of the stove, and a trash can drawer. There are a MILLION more things you can do, which is so fun.
All the rest of the decor, hardware, and lighting is linked in this post below!
The stacked cabinets were something I REALLY really wanted to do. At first, I didn't care about them having windows or not, but I am glad we did. Debbie pushed the lighting inside, and I could not be more thankful. Those are one of my favorite elements of the kitchen.
John's grandmother gave me a few of the cutest blue and white bunnies. Perfect to pull out for easter! Found some cute ones off of Amazon here and here.
White subway tile with white grout and a glossy sealant
To finish up our kitchen renovation, we have to throw a moulding up that coordinates well with what we have in the rest of the house, finish up the flooring in the rest of the house, and paint! As of now, I am leaning towards SW Gray Owl. Will report back.
What we did ourselves to save on some money:
Demo'd entire kitchen
Removed tile (really not fun) and all existing flooring
Installed vinyl flooring – we went with "Honey Pecan" by Nuvelle
Painting
What we contracted out:
Full cabinet install
All electrical work
Backsplash
All the walls we wanted filled in or removed
Here are some before photos from our listing… for giggles.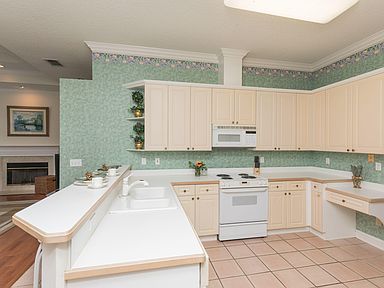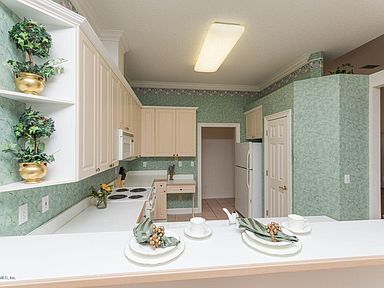 See what I mean about the wonky pantry? And weird walls?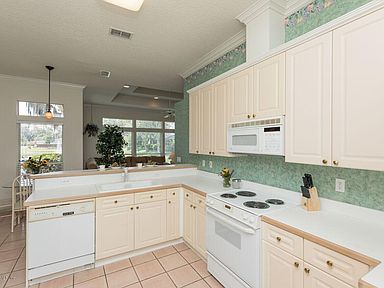 I update more home things daily on Instagram! Follow along there.
For more home blogs, click here!